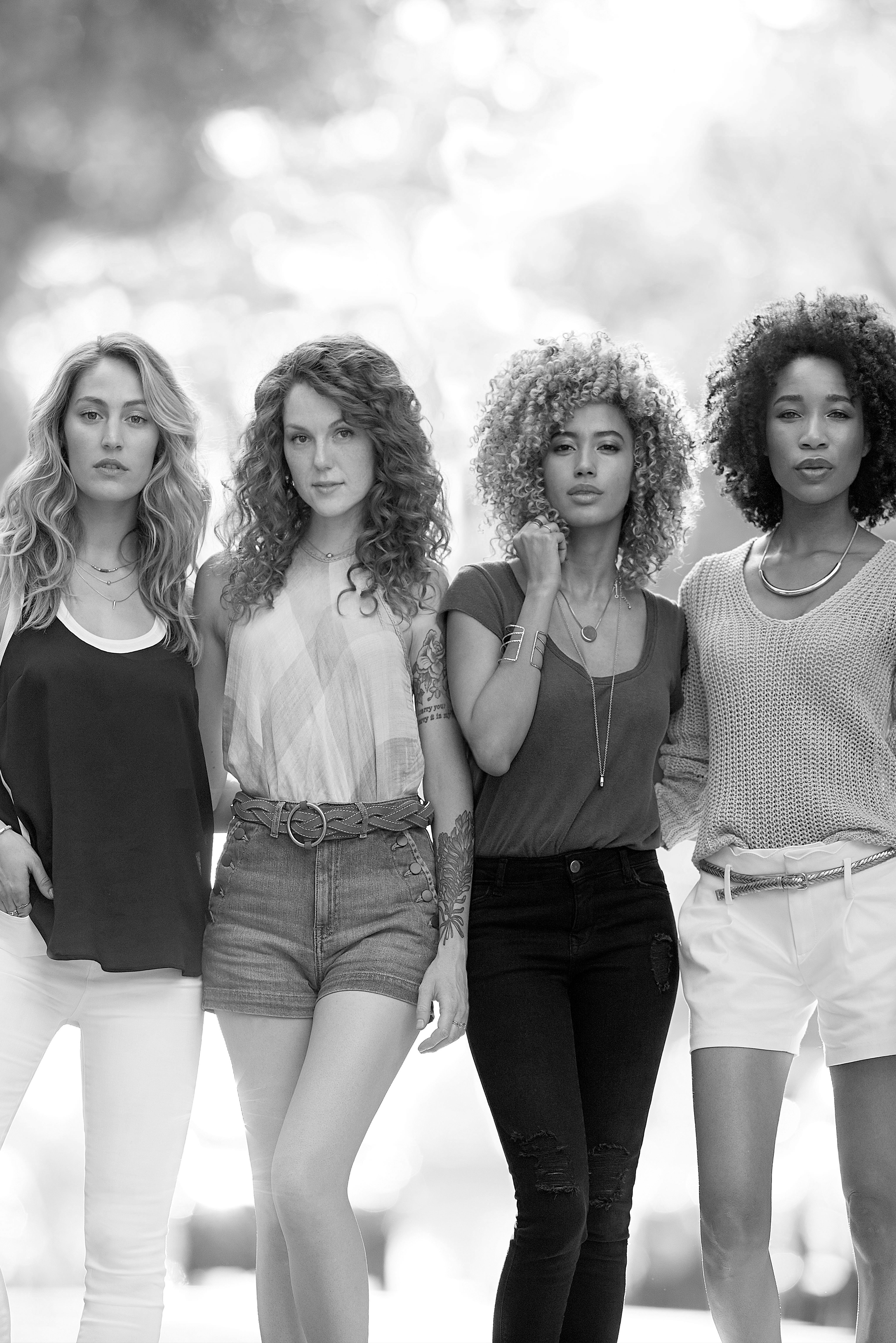 Get Foxy Natural Curls
Our approach to cutting, coloring, and styling natural curls stems from the Deva Curl approach in addition to our own expertise & intuition. Owner Andrea Neal-Thiesen holds the Level 3 Advanced DevaCurl certification and has been a curl specialist since 2008; she was initially taught the cutting technique from a curl specialist in LA who learned directly from Lorraine Massey, author of Curly Girl and creator of the DevaCurl products and cutting technique. Andrea has worked with each of our curl specialists at Gilded Fox to train their eye in the shapes that work for curly hair and given them additional product knowledge so they know which products work best for your specific curl type and texture.

Arrive Ready:
To prep for your curly cut or color service with one of our DevaCurl certified stylists please come into your appointment wearing your hair down, dry, and naturally curly with no pins, clips, or rubber bands so your stylist can see your natural curl pattern. Expect to spend about 2-3 hours at the salon on your first visit for a curly cut, double that if you're getting highlights as well. It's a time commitment but your curls will thank you.

Cutting Technique:
We cut curly hair dry, one curl at a time, which helps each individual curl stay together better allowing more definition than traditional wet cutting techniques. Shaping the curls while naturally curly allows us to see your true curl pattern giving you the best shape possible while wearing your hair naturally curly because there are typically many varying sizes and types of curls on one head of hair. By cutting the shape dry & naturally curly we can snip less off the curls that don't need it and more off the ones that do, giving you a great custom shape that lasts far longer than traditional cuts.
Your stylist will first cut your hair as described above, will wash and style your hair naturally curly using the products that they feel are best for your curls, walking you through the process so you know how to replicate it at home. Next your hair will most likely be clipped for added volume (with a how-to walk through) and you'll be placed under a hood dryer to dry. The hood dryer replicates air drying and is very gentle on the hair; depending on how much hair you have the drying can take anywhere from 20 minutes to over an hour. Finally your stylist will shake out your curls and refine the cut making sure every curl is in the right place.

Pintura Highlighting:
Two of our Advanced Curl Specialists, Andrea and Russell, are certified in Pintura highlighting techniques. Pintura is the Deva Curl method for hand painting individual curls allowing single curls to shine and remain defined. We also can incorporate the Pintura techniques with Balayage and other advanced color techniques for different looks while maintaining the integrity of your curls.

Olaplex Treatment For Curls:
Olaplex is a game changer for de-frizzing hair! This treatment is a bond-builder...it finds the broken disulfide bonds in your hair and fuses them back together resulting in smoother, less frizzy hair.  Typically the results last about a month; there is a take home less concentrated retail size to help the treatment last longer.

Curly Wash & Set:
We will wash and style your hair naturally curly walking you through the process with the products we feel are ideal for your hair.  This is ideal for a special occasion when those curls need to be on point or if you're not quite ready to commit to a curly cut and want to learn more about the styling and hydration process.

Pricing:
Advanced Level 3 DevaCurl Certification
Andrea Neal-Thiesen
Not accepting new clients at this time
First Time Curly Cut $145+
Returning Client Curly Cut $125+
Curly Wash & Set $50
Advanced Level 3 DevaCurl Certification
Russell Costales
First Time Curly Cut $145+
Returning Client Curly Cut $125+
Curly Wash & Set $50
Level 1 DevaCurl Certification
Pamela Cruse
Jen Woodman
Kristen Newman
First Time Curly Cut $105+
Returning Client Curly Cut $85+
Curly Wash & Set $40
Junior Stylist Level 1:
Curly Cut *New Client* $95
Curly Cut *Returning Client* $75
Curly Wash & Set $35+